Steigerrolvormmachine , steigerplanken Deckrolvormmachine is een antislip metalen platform dat is ontworpen voor arbeidsveiligheidsnormen. De productie van metaalbundels wordt uitgevoerd als een resultaat van een reeks bewerkingen. Roll Sheet Metal Opening, Straightening, Sliding, Pressing with Progressive Mold Processing, Roll Form-bewerkingen worden uitgevoerd door snij-, buig- en lasbewerkingen in standaardafmetingen. Steigerbodem Roestvrij staal, aluminium, DKP, zwarte platen worden geproduceerd in thermisch verzinkt, elektrisch gegalvaniseerd of elektrostatisch (poeder) verf gecoat en klaar voor montage. Stalen steigers kunnen worden geproduceerd op standaard 320 mm en 640 mm breedten, volledig gegalvaniseerde stalen steigermachine automatische lijnen zonder enige lengte limiet. Productielijn en snelheid variëren afhankelijk van de dagelijkse productiecapaciteit van de ondernemingen. Neem voor meer technische gegevens contact met ons op met uw verzoekprofiel. We sturen u een gedetailleerde offerte inclusief technische parameter, elke machine onderdelen foto, hele steiger Walk Board Machine werkende video, etc.
1. Profieltekening en producten voor referentie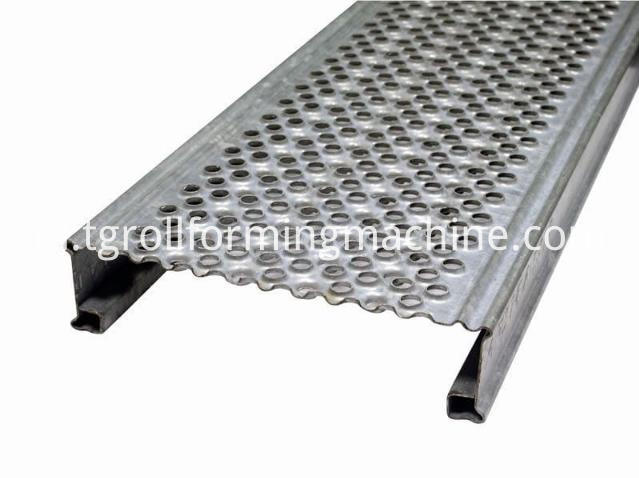 2. Werkstroom voor referentie:
Decoiler- Nivelleren --- Voeren ---- Ponsen --- Rolvormen --- hydraulisch op lengte gesneden uitvoertafel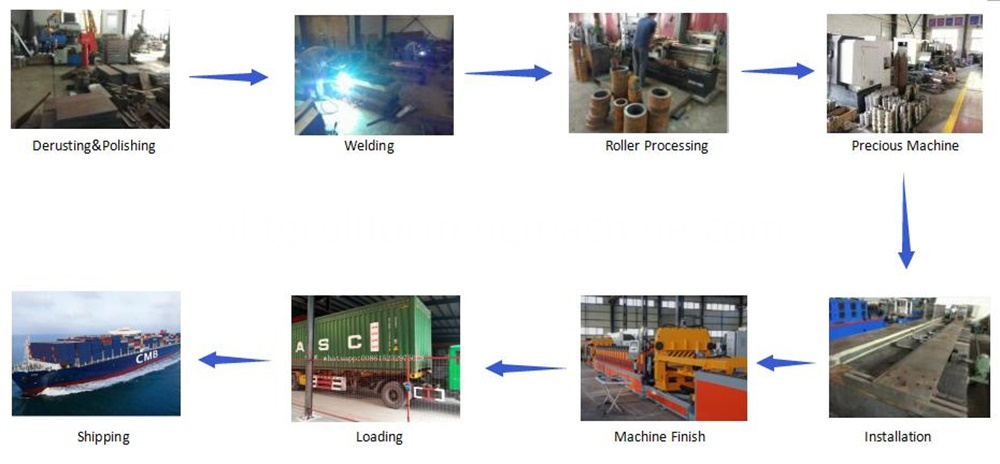 3. Main Scaffolding Walk Board Machine systeem
Description

Product Name

Scaffold Walk board Roll Forming Machine

Machine Weight

About 13 T

Frame Materials

400H steel

Middle plate type

Memorial archway type

Driving mode

Gear box driving

Forming Shaft

Diameter

70mm

Material

40r

Forming roller material

Gcr15 HcR58-62 degree

Main Engine power

15 KW with cycloidal reducer

Hydraulic Station Power

7.5 KW

Forming Rows

16 rows

Forming Speed

6-10m/min

Cutting style

Hydraulic mould cutting

Cutting blade material

Cr12mov

PLC Control System

PANASONNIC

Electric Control System

SIEMENS/ Schneider

Transducer

SIEMENS

Coder

Wuxi "rip" or "Xin Ya"

Switch

Delixi
4. Apparaatoverzicht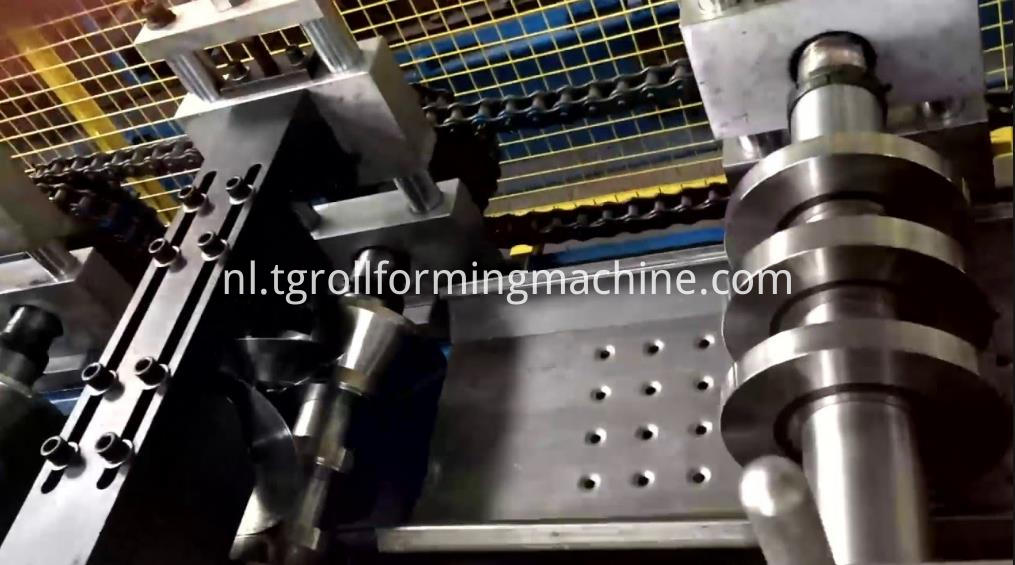 5. Scene-applicatie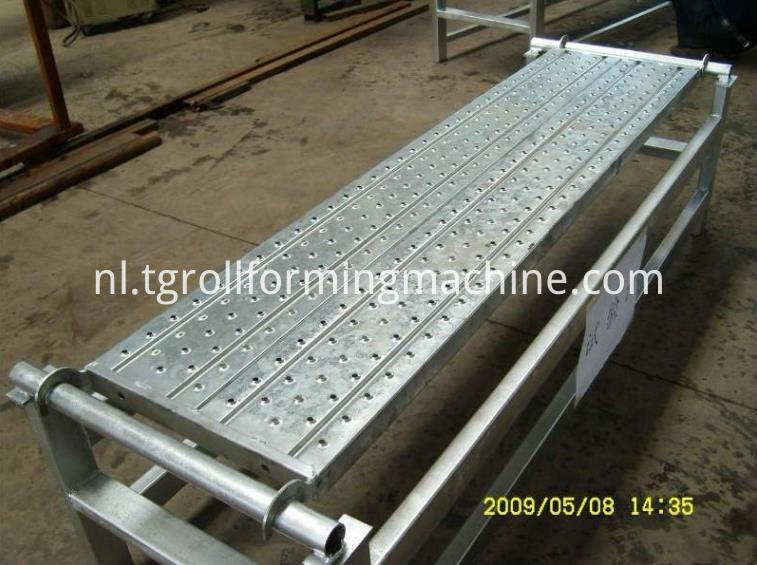 6. Klant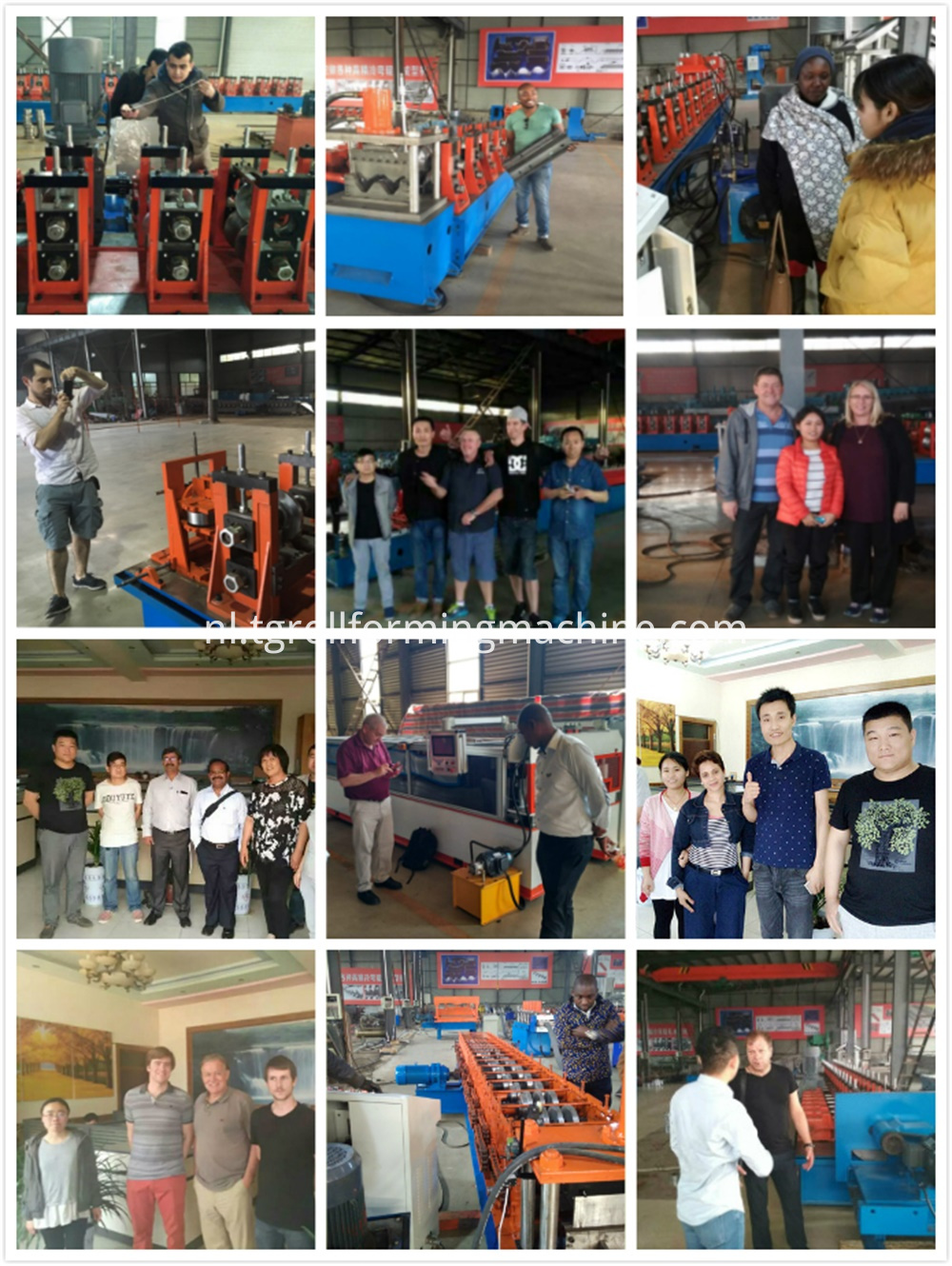 7. Laden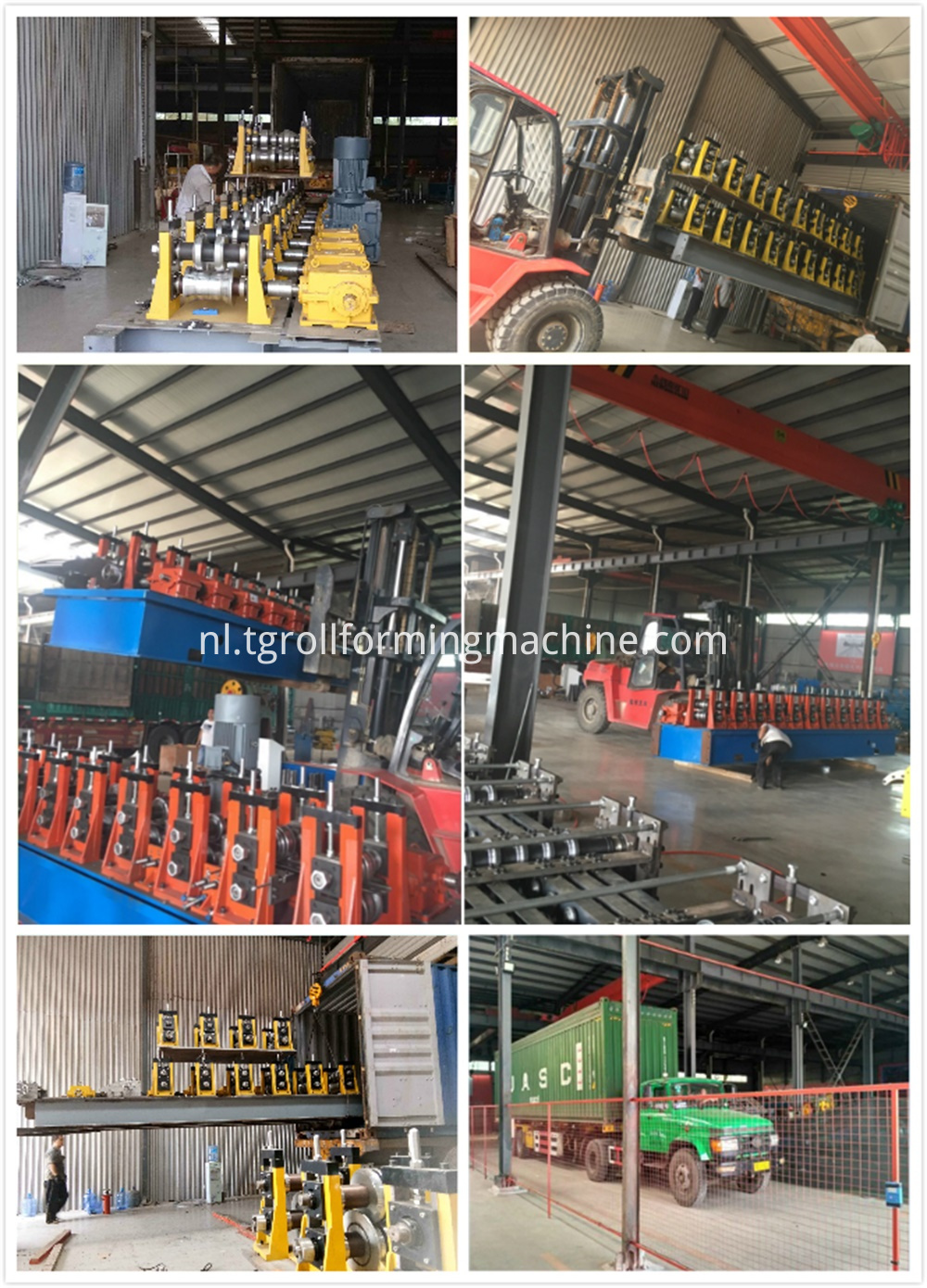 8. Onze service
- 1. Naakt, met waterafstotend dakdoek en opberghout. Geïmporteerd computerbesturingssysteem vol met waterdicht doek en karton.
- 2. Deze machine wordt gedurende 12 maanden gratis onderhouden. Wanneer de Board Roll Forming Machine in China wordt gebruikt, zullen we de machine gratis installeren en debuggen; als Scaffolding Walk Machine in het buitenland wordt gebruikt, sturen we de professionele technicus naar debug. Kopers moeten alle kosten betalen voor technici die naar het buitenland reizen.
- 3. Alle onderdelen in de gegalvaniseerde stalen steigermachine is vrij om het hele leven te onderhouden, als in 12 maanden ons bedrijf de kosten voor het vervangen van het kapotte onderdeel als de nieuwe onderdelen kost en express kosten, als we meer dan 12 maanden, we ook vrij om de kapotte onderdelen te behouden, maar voor het verzenden van de nieuwe onderdelen, de koper moet dragen de express kosten.
- 4. Wanneer u de Scaffolding Walk Board Machine verzendt, sturen wij u ook een set CD en specificatie (Chinees en Engels) naar u met de gegalvaniseerde stalen steigermachine , deze kunnen u leren hoe u de stalen steigerwandplankmachine moet bedienen
9. Betalingsvoorwaarden en service na verkoop:
1) FOB Tianjin
2) Betaling: 30% T / T storting, en betaal het saldo alvorens Metal Deck Forming Machine te verschepen
3) levertijd: 50 werkdagen.
4) Garantieperiode: 12 maanden beperkte garantie vanaf de datum van levering. De verzendkosten voor onderdelen die tijdens de garantieperiode moeten worden vervangen, zijn voor rekening van de klant.
5) Reserveonderdelen: lagers, knoppen, kettingen, magneetventiel, beschermbuis enz
6) Installatie en training
1. Als kopers onze fabriek bezoeken en de Machine controleren , zullen wij u leren hoe u de machine moet installeren en ons moet gebruiken, en uw werknemers / technicus ook persoonlijk kunnen trainen.
2. Zonder te bezoeken, zullen wij u een gebruikershandleiding sturen om u te leren om Scaffolding Walk Board Machine te installeren en te bedienen
3. KOSTEN VAN INSTALLATIE :
De koper moet de installatiekosten betalen (USD 80 per dag één man). Naar het door de verkoper aangewezen account door T / T voordat de technici van de verkoper naar de fabriek van de koper gaan. De koper betaalt de verkoper's technici reiskosten buiten China, inclusief tickets voor vliegtickets, accommodatie en eten, transport van het hotel naar de werkplek, noodzakelijke communicatie en verzekeringen, etc.
Onze belangrijkste producten omvatten Spijkerbaan rolvormen machines , Stalen frame vormmachines , Gordingrol vormmachines , Gelaste pijpen maken van machines , Snelweg vangrail Roll vormen van machines , Metaal uitgerekte maas productielijnen enzovoorts. Als u nog vragen heeft over onze Koud walsen vormen machine , neem dan gerust contact met me op.
Product Categorie : Scaffolding Walk Board Machine